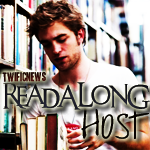 The Jasper Naughty Girls are hosting a TwiFicNews #ReadALong of :
Edward/Bella
At Bella's first play party as a Domme she meets an intriguing stranger that pushes her to unimaginable limits and has her questioning all of her choices. AH/OOC. Rated M for BDSM themes and Lemons. 3rd place winner in Dommella's Dungeon contest.
The ReadALong is scheduled for Wednesday, June 22nd at 8 PM EST
Follow the @JaspersGirls or @LadyTazz7 on twitter.