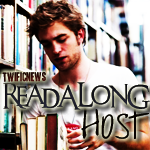 Edward/Bella
Summary: Her life was uneventful until she met a stunning, mysterious, obsessive man with a monstrous hidden past. What happens when the past catches up with him and throws them both into the unknown? Rated M
I picked this story because I'm addicted to Addicted. This Edward is so naughty and yummy!
Addicted's Edward has a twitter...@Addictward.
I'm going to be interviewing Addictward before the #Readalong. If you would like to ask him a question just leave a comment.
The ReadALong time and date will be announced as soon as I get confirmation from the site!