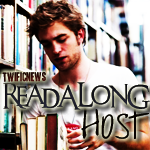 Hello all, it's Lady Tazz, and I'm want you to join me, Friday the 20th at 2 PM EST, as I host for the JNG a Twificnews ReadaLong!
The story is choose is:
Emmett/Bella
When you're in love, you always think it's going to last forever. Yet when a twist in fate changes things, can you recover and pull yourself from the darkness.
How does a ReadALong work?
We read through the story together (usually for 90 minutes or the first 5 chapters).
Tweet your favorite lines and RT others.
When tweeting use hashtag #readalong so other can see.
Remember to review and be respectful.
Most off all, just have fun!
See you Friday at 2 PM EST!!